High Lift Jibs
High Lift Jibs a Carriage Mounted Jibs with an increased beam height to give the ability to stack and destock to greater height than the forklift mast would usually allow. This Crane Jib often referred to as swan neck jib can increase the versatility of your fork lift truck through the gain in lift height. This style of carriage mounted jib is again fitted with our simple to fir carriage mountings. The mountings simply hook over the carriage and bottom blocks clasp the jib in place. Bolt on or quick release bottom blocks are available.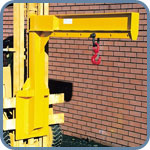 This high Lift Jib is the ideal solution if you require extra lift height on your forktruck. This crane jib is supplied with a single hook and shackle. Wide backplate and durable column insures twisting of the jib is kept to a minimum. This style of jib is ideal for handling tall loads without reducing the amount of lift available.
Model Ref

Truck Capacity

Carriage Class

Hooks to Underside
of Carriage

Weight

C of G

HLJ 500-1.3
1500Kg
2
982mm
162Kg
450mm
HLJ 500-1.8
2000Kg
2
945mm
163Kg
450mm
HLJ 500-2.2
2500Kg
2
932mm
164Kg
450mm
HLJ 500-2.7
3000Kg
3
922mm
212Kg
435mm
HLJ 500-3.1
3500Kg
3
922mm
213Kg
435mm
HLJ 500-3.5
4000Kg
3
922mm
215Kg
435mm
HLJ 500-4.4
5000Kg
3
898mm
220Kg
435mm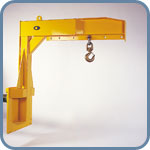 The Carrimax jib is an extra heavy duty crane jib manufactured to suit class 4 carriages. This crane jib has high twist resistance and increased lift height.
Model Ref

Truck
Capacity

Carriage Class

Height from
Underside of
Carriage
to Hook

Centre of Gravity

Weight

HCJ 600-5.0
5500Kg
4
898mm
495
188Kg
HCJ 600-5.5
6000Kg
4
1185mm
386
365Kg
HCJ 600-6.0
6500Kg
4
1185mm
386
365Kg
HCJ 600-6.5
7000Kg
4
1185mm
345
405Kg
HCJ 600-7.4
8000Kg
4
1185mm
342
409Kg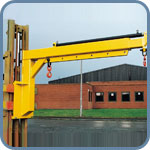 All the features of the standard model but with the benefit of extra lift capability.
Quick release button hangers also available.
Jibs for bar-mounted and DIN spec. carriage also available.
Model Ref

Truck Capacity

Carriage Class

Length

Weight

HLX 500-1.8H
2000Kg
2
1250mm
RETRACTED
2000mm
EXTENDED
227Kg
HLX 500-2.2H
2500Kg
2
242Kg
HLX 500-2.7H
3000Kg
3
262Kg
HLX 500-3.1H
3500Kg
3
267Kg
HLX 500-3.5H
4000Kg
3
267Kg
Capacity Chart
Carrying Capacity at Load Centres Shown

Model
Ref

Truck
Capacity
@500mm

500
mm

750
mm

1000
mm

1250
mm

1500
mm

1750
mm

2000
mm

2250
mm

2500
mm

2750
mm

3000
mm

500-0.8
1000
800
650
500
380
310
230
-
-
-
-
-
500-1.0
1300
1000
800
630
470
388
280
-
-
-
-
-
500-1.3
1500
1300
900
680
500
450
380
320
280
250
230
200
500-1.8
2000
1800
1400
1100
900
720
580
500
360
330
260
210
500-2.2
2500
2200
1800
1400
1100
1000
850
750
560
440
320
230
500-2.7
3000
2700
2050
1450
1200
100
900
840
670
490
360
270
500-3.1
3500
3100
2500
1900
1500
1200
1000
900
730
580
450
370
500-3.5
4000
3500
2700
2000
1600
1300
1100
1000
820
670
540
460
500-4.4
5000
4400
3400
2700
2200
1850
1400
1100
900
750
620
500

Model
Ref

Truck
Capacity
@600mm

600
mm

750
mm

1000
mm

1250
mm

1500
mm

1750
mm

2000
mm

2250
mm

2500
mm

2750
mm

3000
mm

600-5.0
5500
5000
3650
2950
2500
2200
1850
1500
1100
950
700
560
600-5.5
6000
5500
4050
3250
2750
2400
2050
1650
1300
1100
900
700
600-6.0
6500
6000
4500
3600
3000
2600
2300
1875
1600
1300
1150
840
600-6.5
7000
6500
5400
4200
3300
2900
2400
2100
1800
1650
1425
980
600-7.4
8000
7400
6150
4800
3750
3315
2750
2475
2000
1750
1550
1090
600-9.2
10000
9200
6950
5400
4250
3730
3100
2790
2370
1900
1630
1150